We're proud to offer this kind of exclusive bespoke travel experience. The Exmouth Land Train is a popular tailored and personalised private hire choice throughout the year. Hiring Exmouth's premier land train is perfect for weddings, stag and hen parties, or corporate events alike. The perfect precursor to your event; transport your guests with panache, and arrive at your event in style. This is how you make an entrance…
Pricing is bespoke and a quote will be provided upon enquiry, based on your requirements.
Available all year round
Locations throughout the UK
Choose between two envy-inspiring land trains
Add extras to your private booking, e.g. chilled prosecco,  fish & chips, locally made Italian gelato (depends on season & availability).
Add a booking at your favourite Exmouth restaurant
We accommodate locations throughout the UK and are able to drive the train in a surprising range of tight places and sharp turns – almost anywhere a large family car is able to go.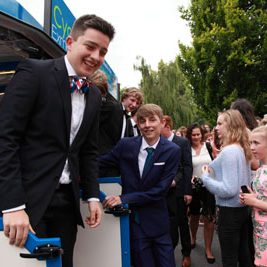 Make your Prom a night to remember. Decorated before you arrive, a fully crewed train will make heads turn as you and your friends arrive in style to your event.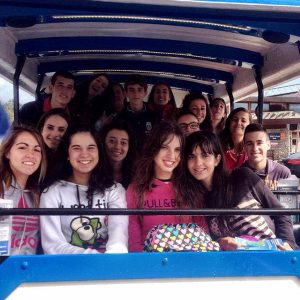 Our informative and educational commentary of Exmouth makes this educationally rich experience not just a highlight of your day, but a highlight of your year.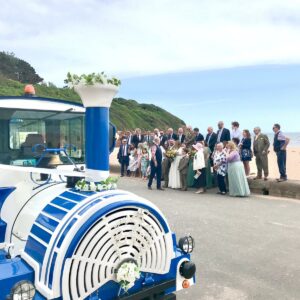 For a unique wedding day you will remember for the rest of your lives together, let us pick you up and transport you and your guests on your special day (a wonderful wedding photograph opportunity).
WEDDINGS
We assist our clients in creating unforgettable celebrations that exceed expectations.
Whether you want us to fully dress your train or want us to work with your wedding planner, we know that great weddings are all about people and we always work with the guest experience in mind.
Our reputation for creating outstanding wedding trains means you come first.  All wedding packages are discussed & researched beforehand, and budgets strictly adhered to. Every train is safety checked and valeted before hire.
*We reserve the right not to rent the train or cancel the train if we feel that it may damage the Company's reputation or the train itself. We will not hire a vehicle to you with a known safety or reliability issue.
BOOKINGS & ENQUIRIES
Fill in the below form with your location and private hire requirements today. We handle the booking and all arrangements. All you have to sit back and enjoy the ride.